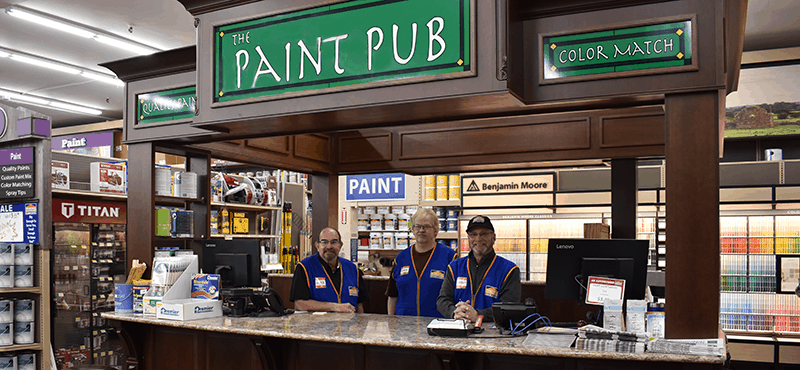 Paint With Confidence
Quality Products & Expert Advice
Browse

Boston's Best, Local Benjamin Moore Dealer
Norfolk Hardware and Home Center is one of the largest paint stores in Boston. As stocking retailers of Benjamin Moore, you can be sure that we have the quality products you need to get the job done right. Our specialists have over 100 combined years of experience in the business and they are happy to help you with ideas, DIY tips, color consultation, or anything else you might need. We provide free custom color matching and tinting, design, and tutorials on methods and best-practices.
Trying to match a certain color? Bring samples in of ANY brand color name and we will match it with our color matching technology.
Residential and Commercial Painters
Our team works with many residential & commercial contractors to supply the highest quality products. We have every tool you would need, and the highest quality supplies to help you get your project finished right & on time. Receive special volume pricing, free local delivery, dedicated account managers & be eligible for cash & charge accounts. Become a Norfolk Pro today!
For Pros
Explore Products By Category:
Painting Specialists – Get Expert Advice
Our expert staff is truly what sets us apart from the big box stores. When you stop by the Norfolk Paint Pub, you have access to expert advice, including answers to any technical questions, product selections, and application techniques. Our employees aren't just here to mix paint – they are here to help you find the best products for your project.

Competitive Pricing – Guaranteed
We like to think we have the right price every day of the week. If you happen to find any of our products for less at one of our competitors, we will match that price. We want you to shop with confidence knowing that you are getting the most bang for your buck at Norfolk Hardware & Home Center.
Note: the ad/sale price must be presented in writing from a local competitor only.
We Carry Most Major Brands:
Norfolk Hardware Has Everything You Need For Your Next Project
Products we stock include: Buckets, Caulking & Sealants, Caulking Guns, Ceiling Paints, Floor Sealers, Interior & Exterior Paints, Glazing Compounds, Ladders, Marking Paints, Stains & Polyurethane, Paintbrushes, Rollers & Trays, Patching Compounds, Sealers, Spray Paints, Sandpaper, Patching & Repair, Tape, Tarps & Drop Cloths, Tools & More!
Looking for Something Specific? If we don't have it in stock, we can order it at no extra cost. Call us today!
Contact Us
Comments are closed.