Contact Us Today
At Norfolk Hardware and Home Center, we have everything you need to get the job done right.  Stop in the store, so our experts can help you with your next home project. Contact us today, or fill out the below form and we will get in touch with you shortly.
Looking For A Kitchen Or Bath Remodel?
Please visit our kitchen & bath department page to learn more about our products and services, or request your free, no obligation design consultation to get an estimate.
Request Free Design Consultation
Store Hours:
Monday: 6:30 AM to 6:00 PM
Tuesday: 6:30 AM to 6:00 PM
Wednesday: 6:30 AM to 6:00 PM
Thursday: 6:30 AM to 6:00 PM
Friday: 6:30 AM to 6:00 PM
Saturday: 6:30 AM to 6:00 PM
Sunday: 10:00 AM to 4:00 PM
Contact Info:
Store Phone:  617-296-2100
Kitchen & Bath: 617-296-6600
Email: [email protected]
Store Management: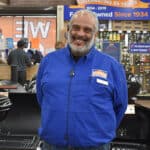 Store Manager: Danny Ayala
Email: [email protected]
Directions & Address:
We are conveniently located at 981 Morton Street (at Gallivan Boulevard) in Boston. Just 2 miles from Route 93!
Special Order Pickups:
Most special orders can be picked up directly at the store. Some special-order pickups, namely cabinets & countertops, may also be at our new shipping and distribution center in Braintree. Your customer service representative will let you know where to pick up your materials. To schedule a pickup, please contact our customer service team: (781) 817-4007.
Shipping & Distribution Center
140 Campanelli Drive, Braintree,  MA 02184 – Just 10 minutes away!
Return Policy:
Returns for a full refund are allowed within 90 days of purchase if accompanied by the original sales receipt and in original packaging. See return policy details and exemptions here.
Open An Account:
Employment Opportunities:
Norfolk Hardware is hiring! Check out our active job openings or send us your resume to see what opportunities may be available for you!