Norfolk & Teen Police Academy Partner to Build "Little Free Libraries"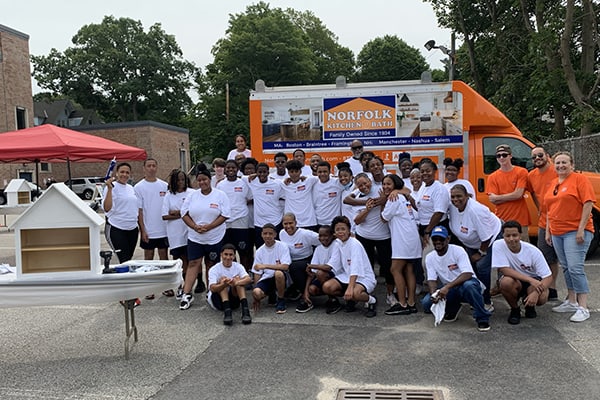 On Wednesday, August 4th, members of the Norfolk Hardware team and 27 kids from the Boston Teen Police Academy came together to build 4 "little free libraries" for the Boston community with members of the Boston Police Academy. Throughout the day, the kids learned how to assemble & paint the little libraries with assistance from 5 police officers, as well as members of the Norfolk team, including Julie Blake, Steve Costa & Andre McFadden. These community libraries will be mounted to posts and eventually installed throughout the Boston area.
What Is A Little Free Library
Little Free Library is a non-profit organization founded in 2012 that focuses on being a "catalyst for building community and increasing book access" through these local little library book exchanges. Anyone can come to these libraries and leave a book for others to then borrow and enjoy. Currently, the Little Free Library organization has over 100,000 little libraries worldwide, including 4 brand new libraries in the Boston community.
Norfolk's Involvement
The materials to build the libraries, donated by Norfolk Hardware & Home Center, consisted of a small, 2-door cabinet, 4×4" posts for mounting, waterproofing supplies, plenty of paint and roofing shingles. Members of the Norfolk team also assisted on & off-site with initial prep work, assembly instructions and hands-on assistance throughout the day.
About The Teen Police Academy
The Boston Teen Police Academy was founded in July 2010 by Boston police officers William Baxter and Darryl Owens. After the slaying of Tamir Rice, a 12-year-old kid that was mistakenly shot by police in 2014 while playing with a fake gun, Owens shifted the programs focus towards building a bridge between Police Officers and urban youth. He aspires to empower young people into becoming community leaders.
The Boston Teen Police Academy is a place where urban teens can come during the summer for a paid opportunity to serve the community, develop strong relationships with police, and learn individual & group problem solving skills in a safe, highly disciplined, and fun environment. During this project, kids learned valuable information about how to use various home improvement tools, including caulking guns, screw guns, paint & more. The day also included a discussion about police and police's responsibility in their communities. The Boston Teen Police Academy offers this summer program annually to all kids in the area.
These book houses are a great way for any community to enjoy the pleasure of reading and allows people to share the many books they may have sitting on a shelf with others in their community. Norfolk was proud to be part of this great community event and looks forward to being a part of future projects with the Teen Police Academy. Check out some photos of the day's events below!
Norfolk In the Community
Norfolk Hardware & Home Center is passionate about giving back and helping the community that has supported our business for over 85 years. To learn more about the community projects that Norfolk has done in the past, please visit our community outreach page.
Learn More