Norfolk Hardware & Home Center Celebrates 85 Years

Norfolk Hardware & Home Center is celebrating its 85th year in business and invites you to celebrate later this year with special deals, giveaways and more! Check back soon for more details.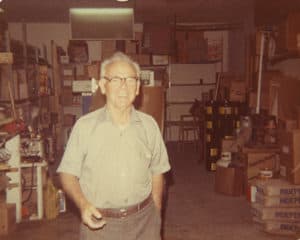 How It All Started
Norfolk Hardware and Home Center was established in 1934, by Benjamin and Lena Rosen, as a small store that sold plumbing supplies. The store was named after Norfolk Street in Mattapan, the street the original business was located on.  Adding to the company over the years, the store grew their inventory and became a hardware store, then a full-service home center, which has grown to include 5 kitchen and bath remodeling showrooms, a custom countertop shop, and a multifamily sales division. The Norfolk Companies now employs over 160 hardworking people from Mattapan and the surrounding communities in Massachusetts and New Hampshire.
A Testament to the Founder
The steady success of the business has been due to many factors. Hard work alone may not be enough to make a company grow over the years. This company has survived through economic downturns, wars, and many other obstacles. Benjamin Rosen started the company during the great depression with nothing more than a courageous dream and a great business sense. In 1933, unemployment was at 25% and more than 5,000 banks had gone out of business. It was a risky time to start something new, but Benjamin saw the opportunity and went for it, with his wife, Lena, by his side.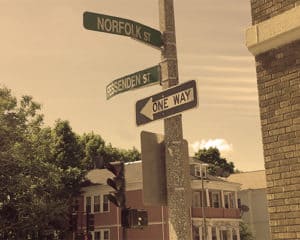 The community has always been a big part of Norfolk Hardware & Home Center's success. During the depression, people barely scraped by and helped each other out when they could. Benjamin was there to help his community on Norfolk Street whenever needed. As a trained plumber, he used his expertise to grow his business and stock the best quality products at reasonable prices. Local plumbers and customers would come to him for parts and supplies, and the occasional expert advice provided by his many years in the trade. Today, many of the employees at Norfolk Hardware are experts in home maintenance and repair and are always willing to help out a customer, whether a tradesman or a DIY homeowner. Helping the community is a core part of who we are, where we came from, and where we are going.
Old-Fashioned Way of Doing Business
Despite the growth that we have sustained over the last 85 years, Norfolk Hardware & Home Center and Norfolk Kitchen & Bath are very similar to the local hardware store opened by Benjamin and Lena Rosen, all those years ago on Norfolk Street. While the store has been newly remodeled, you can expect that same type of old-fashioned customer service when you walk through our doors. We pride ourselves in our dedicated customer service and knowledgeable sales staff. We do our best to know our community and learn the names and faces of customers who come through our doors. As we like to say, Norfolk Hardware is "big enough to serve you, but small enough to know you".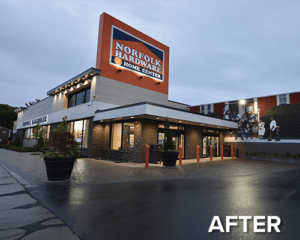 Many generations later, the business is still family-owned and operated by the Rosen family. The business is currently run by Benjamin's great-grandson, Ben Rosen, and his brother, Jason.  The legacy of Benjamin Rosen lives on through the success of the family business. With the support of our community, they hope to see their children run the business someday, with many more milestones and achievements to come.
We invite you to check out the newly-remodeled store any day of the week! Stop by any time you need a product or some advice on how to tackle a project. Get all the products you need, with the old-fashioned service you deserve, at Norfolk Hardware & Home Center. We look forward to earning your business!