Smoke Alarm Buying Guide: What Kind Should I Get?
It's important to always be prepared in the event of a fire emergency. According to the U.S. Fire Administration, three out of five home fire deaths result from fires in properties without working smoke alarms. Installing the correct smoke alarms in the correct locations, and keeping them in working order, is an effective & budget-friendly preventative measure against house fires. But which smoke alarm is the right one for you?
Dual Sensor Smoke Alarms
Smoke alarms are not all built the same. There are currently two types of smoke alarm technology available: photoelectric & ionization sensors. Photoelectric smoke detectors rely on a visual detector to see the smoke particles before it sounds the alarm. This sensor is ideal for smoldering fires that produce a lot of smoke. Ionization sensors, on the other hand, use an electrical reaction to determine when the air fills with smoke particles, and are best suited for hot flaming fires with less visible smoke. For best protection, look for dual-sensor alarms that use both types of sensors.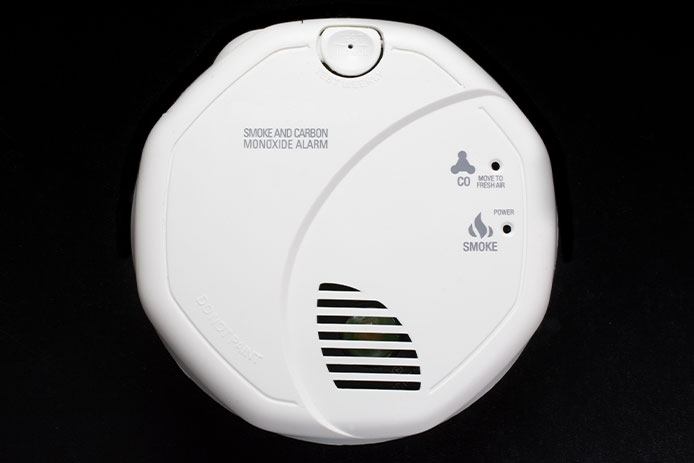 Smoke & CO Alarms
Carbon monoxide, known as the "Invisible Killer", is a colorless, odorless, poisonous gas that comes from the incomplete burning of fuels like gas, oil, wood, and coal. Every home should have at least one carbon monoxide detector on each floor. If not, consider purchasing a smoke detector with a carbon monoxide (CO) detector built in for maximum protection.
Smart Smoke Alarms
As loud as standard smoke alarms are, they are only effective when you are home to hear them. If you have a home security system or smart hub like Amazon Alexa, Google Home or Apple HomeKit, consider investing in a smart smoke alarm that can send you mobile alerts while you are out of the house. If a fire occurs while you are at work or on vacation, smart smoke alarms will send an alert to local authorities on your behalf, giving you a chance to extinguish fires before they destroy your property or, more importantly, your home.
Note: Smart smoke alarms usually require a home wireless or wired internet connection. Make sure that your home network is secure & capable of handling smart equipment before attempting to add a smart alarm.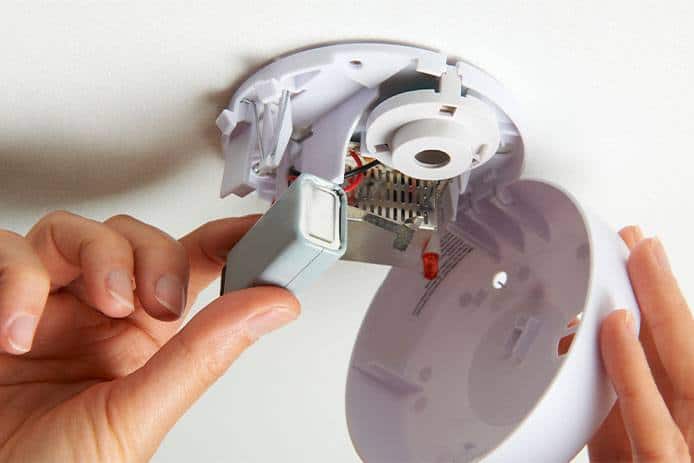 Hardwired Vs. Battery-Operated Alarms
While battery-operated smoke alarms offer a quick & easy installation, they require frequent checks to make sure that the batteries are charged. Hardwired smoke alarms are connected to the electrical supply in your home and may be ideal if you don't want to frequently change batteries or if your alarms are in hard-to-reach areas. Hardwired units typically offer a battery backup for power-outages but will only need a battery change once every few years.
Note: Smart smoke alarms typically require a hardwired connection to function properly.
Install Locations & Maintenance Schedule
Ideally, smoke alarms should be installed on each level of your home and in every bedroom, along with every room with its own heating source (space heater, fireplace, etc). To keep your alarms in working order, be sure to test the alarms on a monthly basis and replacing once they are 10 years from their manufacturing date.
Smoke Alarms at Norfolk Hardware & Home Center
Norfolk Hardware & Home Center is Boston's best family-owned hardware store since 1934, with over 40,000ft2 of quality home improvement products at reasonable prices, including smoke alarms, fire extinguishers, carbon monoxide alarms, and all your fire prevention needs. With friendly customer service, expert DIY advice, and free ship to store on thousands of items, we are your one-stop-shop for your next project. Stop by the store today!
---
Source: DoItBest